GoCar Garage Rainy Day Deal T&C
SECTION A. General Terms and Conditions
The "GoCar Garage Rainy Deal" ("Campaign") is organized by GoCar Mobility Sdn Bhd (201501016594 (1141928-U)) ("GoCar Garage")
This Campaign period is between 10th October 2023 till 31st December 2023 (both dates inclusive) ("Campaign Period").
GoCar Garage reserves the right to vary (whether by addition, deletion or modification) ("Amendments") the Campaign's terms and conditions ("T&C") without assigning any reasons thereof. Notification of such Amendments will be posted at the website (https://blog.gocargarage.my/) and the Amendments shall be effective and deemed binding on the date of notification of the Amendments or from such other date as may be specified by GoCar Garage in the notification. You are advised to check these T&C regularly to ensure that you are aware of all the latest terms governing the Campaign.
By participating in this Campaign, you are deemed to have read, understood and agreed to be bound by the T&C stated herein including any Amendments that may be made from time to time.
These Terms & Conditions shall be governed by and construed in accordance with the laws of Malaysia. Any dispute arising out of or in connection with them shall be subject to the exclusive jurisdiction of the courts in Malaysia.
Please refer to our Customer Experience team at 1300-30-2633 or hello@gocar.my for any enquiries regards to this Campaign.
SECTION B. GoCar Garage Rainy Deals
GoCar Garage Rainy Deals package includes the following services: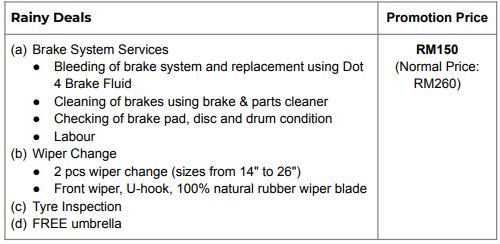 2. GoCar Garage Rainy Deals is only for bookings made from 10th October 2023 – 31st December 2023 ("Campaign Period") capped at the first 150 bookings via:
(a) GoCar mobile app ("App") or GoCar Garage website at https://www.gocargarage.my/ ("Website") Redemption period: 10th October 2023 – 31st January 2024.
(b) GoCar Shopee Store at https://shopee.com.my/gocarmalaysia.os ("GoCar Shopee")
3. Redemptions can only be made at participating GoCar Garage Partners ("Partner Garages") as listed in Appendix A
4. In the event the vehicle wipers are not due for replacement or not suitable for your vehicle, the wipers which form a part of this campaign will be provided to you.
5. Services such as tyre alignment, balancing, and replacement, as well as brake pad, disc, or drum repair or replacement, are not covered in this package and will incur separate charges.
SECTION C: Bookings via GoCar Shopee
For bookings via GoCar Shopee page, you may opt to secure the offer at RM50 booking via made via Shopee.
Upon successful payment via Shopee, a unique promo code will be emailed to you within three (3) working days.
You may proceed to book your Rainy Day Deals package via the Website of Mobile App, and apply the promo code to knock off the RM50 booking fee from your invoice upon making payment.
Bookings made via Shopee may have a redemption period between 10th October 2023 – 30th June 2024.
Booking fees made are non-refundable.
SECTION D. Other Terms and Conditions
All picture(s) of models shown in advertisements and communication materials for the purposes of this Campaign are for illustration purposes only.
The promotion under this Campaign can be combined with any other on-going or future promotion(s), discount(s) and offer(s)
The promotions listed are not redeemable or exchangeable for cash or credit of any kind.
In the event of any disputes, GoCar Garage decisions on all matters relating to the Campaign shall be final, absolute and binding. No correspondences, enquiries, appeals, challenge, or discussion in respect of any decision(s) or determination(s) made by GoCar Garage shall be entertained.
Any enquiries and complaints related to the Campaign shall be referred to GoCar Garage's customer service centre via telecom at 1300-30-2633.
Any personal data collected during registration for participation of the Campaign will be processed in accordance with the Personal Data Protection Act 2010 ("PDPA"). By participating in this Campaign,you hereby consent to GoCar Garage processing his/her personal data according to the PDPA. A copy of the PDPA notice is accessible at the website "gocargarage.my"
GoCar Garage is entitled to, at any time, cancel, terminate or suspend the Campaign without prior notice. For the avoidance of doubt, such cancellation, termination or suspension of the Campaign shall not entitle you to any claim or compensation against GoCar Garage.
Failure by GoCar Garage to enforce at any time any of the provision of these T&C shall not be construed as a waiver of any continuing breach of any provision of any other provision of these T&C or as a waiver of any rights under these T&C.
In the event any of the provision in these T&C is invalid, illegal and unenforceable under any applicable law or by any reasons whatsoever, the legality and enforceability of the remaining provision(s) shall remain and shall not be affected.
APPENDIX A:
Participating GoCar Garage Partners
Participating Partners listing may be updated from time-to-time. Refer to the Website or GoCar mobile app for the latest list.